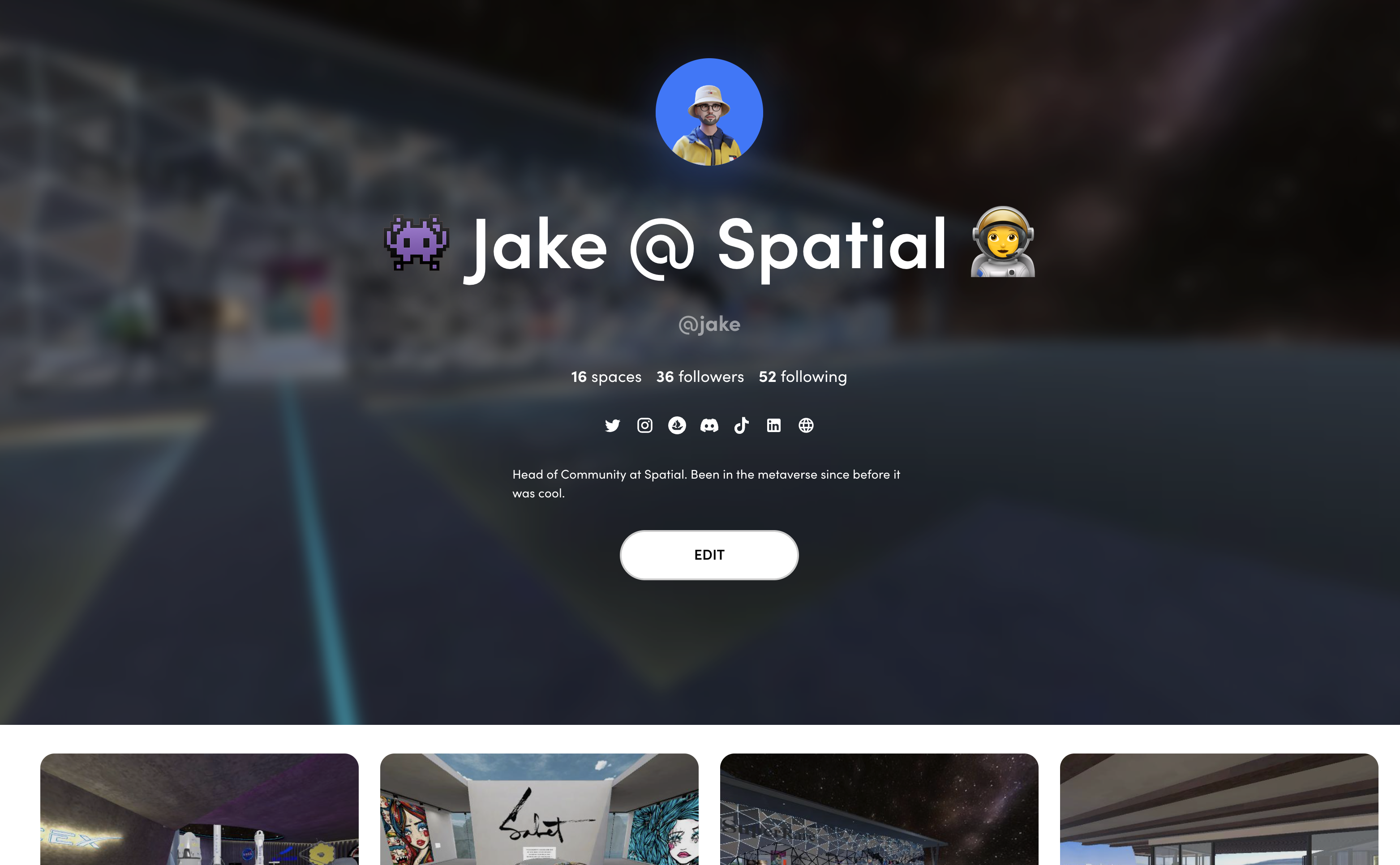 Spatial just got more social - introducing Profiles
Spatial has a new face - YOU!

Your profile is your public face to the rest of the community - tell others about yourself, showcase your public Spaces, and link out to external profiles and important links. Plus - follow other Spatians for a more personalized Spatial experience!
Editing Your Profile
To edit your profile, go to https://Spatial.io/profile and click Edit.
You can edit/modify the following fields:
Profile Picture

- an image of the most recent avatar you selected. Click on this (while Editing) to be taken to the avatar editing screen inside your Home environment.

Name - This is the name that will be displayed prominently at the top of your profile, and above your avatar in spaces.
Username - Think of this as your profile "@ handle". It will also set your profile URL, such as https://Spatial.io/@Jake
About - tell us a little about yourself! 250 characters maximum.

Discord

- Your Discord username. This can be found in the lower left corner of the Discord app (be sure to include the full username, including "...#00000"!).

Instagram

- Your instagram handle. Because you still gotta flex your filtered photos.
OpenSea - Your OpenSea profile handle.
LinkedIn - Your LinkedIn username, which can be found in your LinkedIn profile URL, or edited in your public settings. For the professionals.
TikTok - Your TikTok handle. For showing off that time you tried to pull off the latest dance trend.
Personal Website - have another website or personal portfolio you want people to check out? Drop the link here!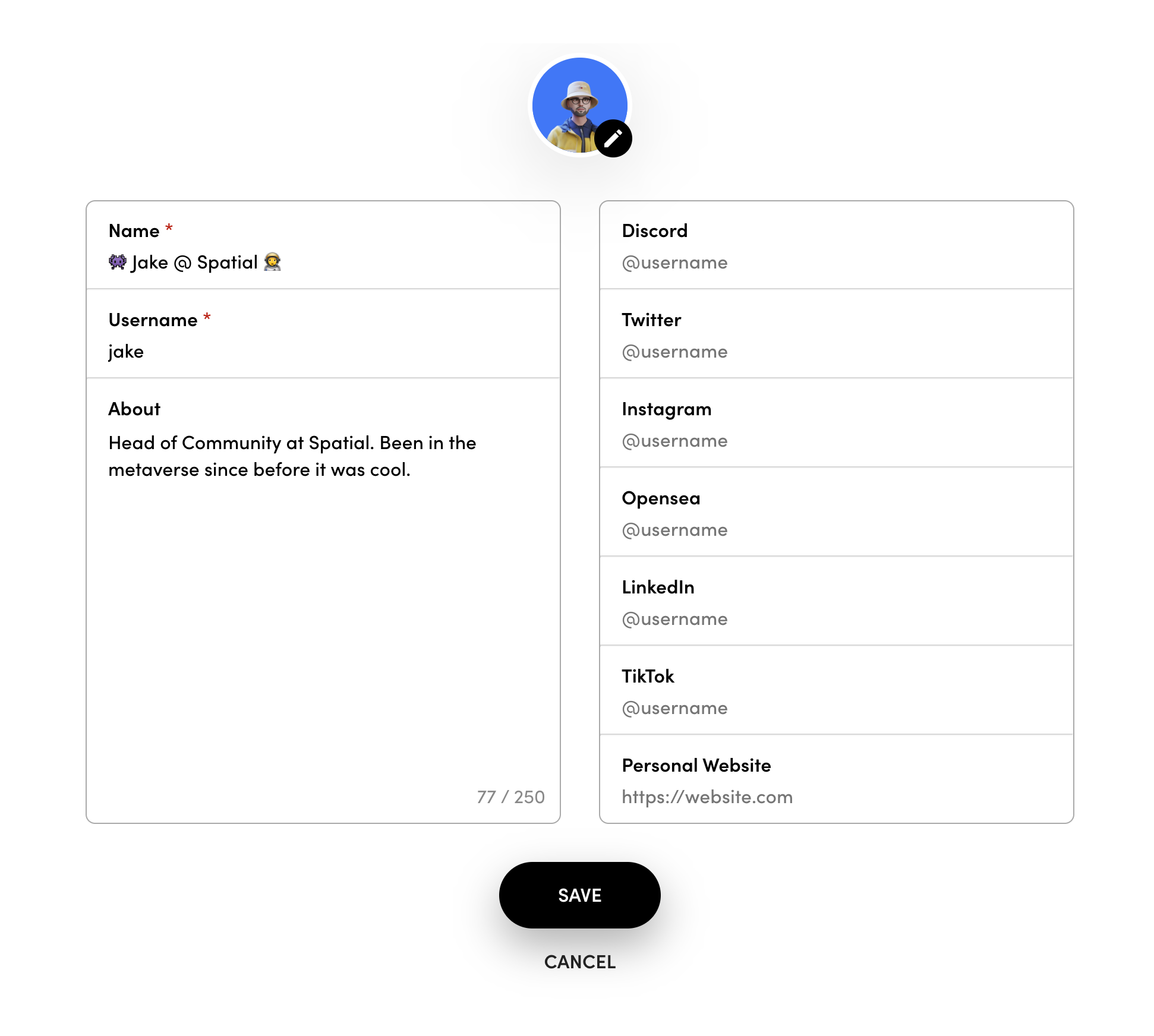 Showcase Your Public Spaces

The lower part of your profile shows all of your public Spaces. These are all the spaces you have marked as Publicly Listed in the space's Share settings, or have hit the Go Live button in (and haven't disabled the Publicly Listed toggle).
Learn more about making your space public and discoverable here: Go Live and Publicly Listed
To find all your spaces, both Public and Private, go to the My Spaces tab on the Spatial.io homepage.
Setting Your Profile Banner/Background Image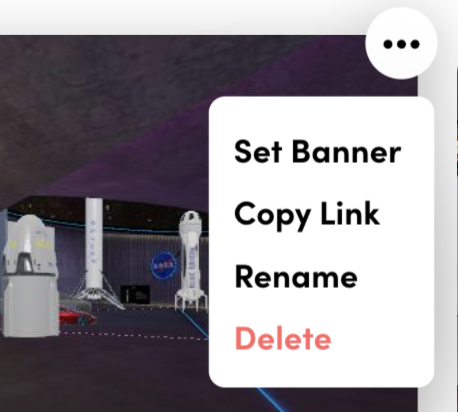 You can change the background image in your profile banner!
Scroll down to find your public spaces. Hover over one of the space, click the overflow menu (...) and then Set Banner. This will take the preview image of that space and set it as the backdrop to your profile.
How to Discover and Follow Other Spatians
You can discover other Spatians' profiles and follow them a number of different ways.
Click on their name above their avatar when in a Space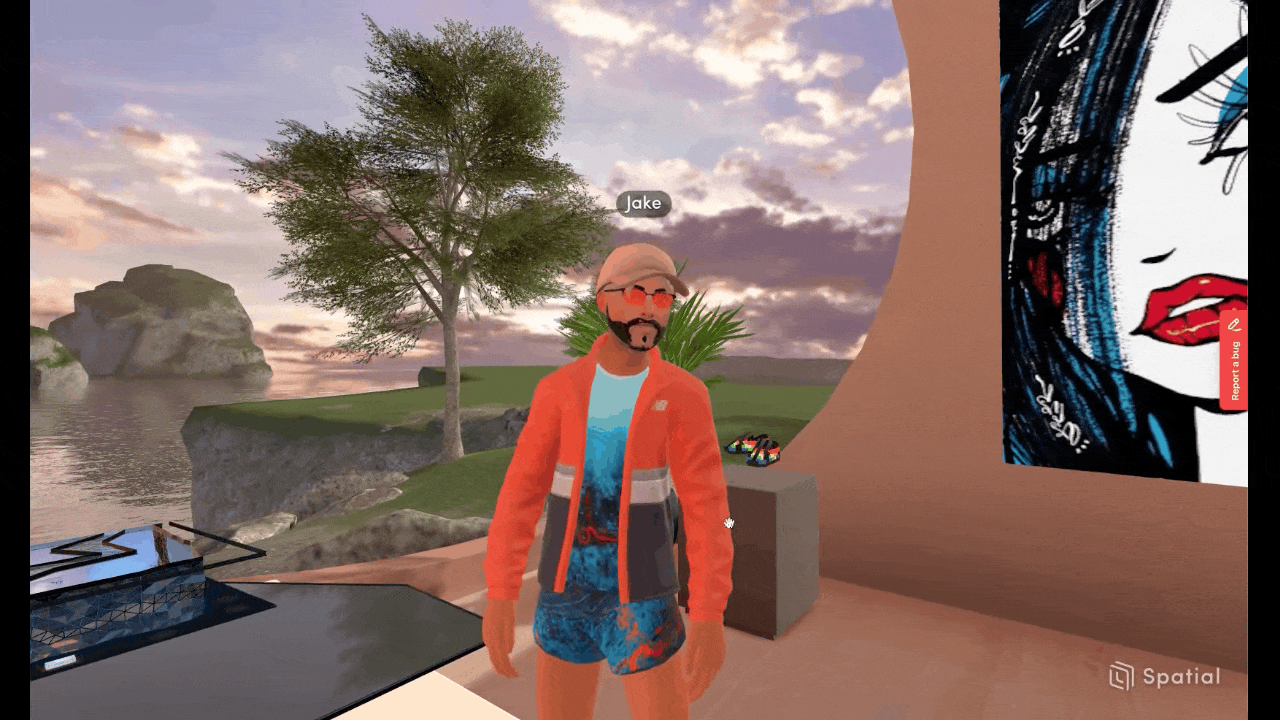 Click/hover on their name in the participant bar at the top of the window

Receive a direct link

You can simply share your profile link with someone. Your Spatial profile URL is Spatial.io/@[+username] (note: not your Display Name)
FAQ
I've followed other Spatians, and have people following me - what does this do?

In the near future, you will be notified about the people you follow - when they publish a new space, when they Go Live, when they enter one of your spaces, and more. More on this coming soon.



I've created many spaces, but only a few are displaying on my profile - why?


Only spaces that you have Gone Live with, or toggled as Publicly Listed will be displayed on your profile (even for you). To see all your spaces (public and private), head to the My Spaces tab on the homepage.



Can I make my profile private?


Once you've accepted our updated Terms of Service (as of Oct 4, 2022), all Spatial profiles are public. You can choose what information you'd like displayed on your profile, including which spaces are displayed.



Can I block certain people from following me?


Yes. Navigate to the person's profile, click the overflow menu (...) and select Block.



I'm trying to edit my profile, but it is not saving.


Ensure that all the fields you've filled out, including your Spatial username, meet our character and Community Guidelines. If you believe it has and you are still receiving an error when trying to save, please contact Support.



Will there be Verified Profiles? If so, how do I get verified?


We do plan to have Verified Profiles, and will have more to announce about that (including how to apply to be verified) at a later time.