Spatial spaces hold a maximum of 50 participants each, but there are ways to share your live event with hundreds (or even thousands) of other spectators without them skipping a beat. Follow along to learn how to live stream your event using Restream or Zoom.
Live Stream from Spatial via Restream
With Restream, you can directly stream out to YouTube, Facebook, Twitter, Twitch, and other popular platforms all at once, from one account.
Go to restream.io in Google Chrome and log in

Open a new Chrome window or tab. Go to Spatial.io and log in.

Join the space you'll be broadcasting and let the room load

In the Restream home page, click on "Start with Studio", choose your desired settings, and then click "Enter Studio".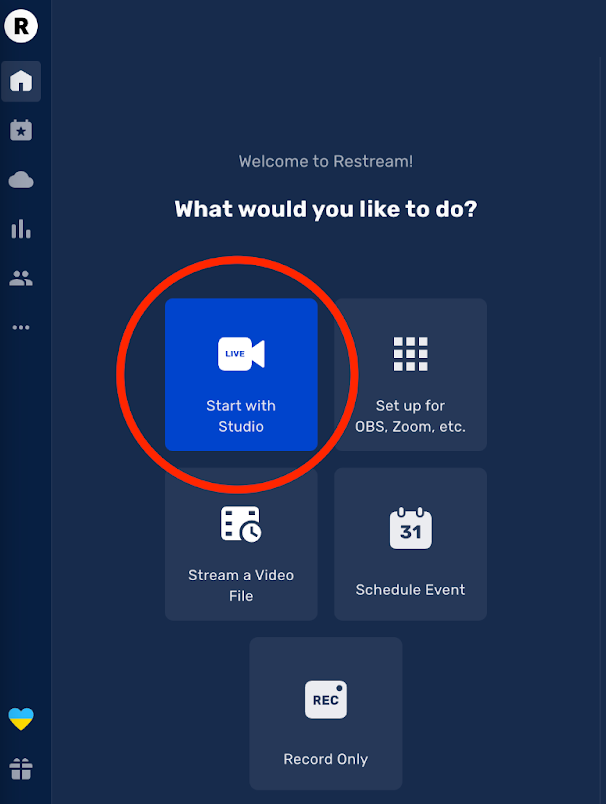 5. From the Studio page, below the preview window, click the "share screen" button, then click the tab at the top of the popup window that says "chrome tab" and select the Spatial tab.
Be sure to have the "share tab audio" box checked in the lower right corner of the popup window and then click "share".
6. On the left hand side of your Restream studio, you'll see your Spatial tab that's being shared, and you'll likely see another video source that is just a black screen. If you hover your mouse over the Spatial window being screenshared on the left hand side, you can make Spatial full screen for your stream by clicking the button directly next to the off/on toggle switch.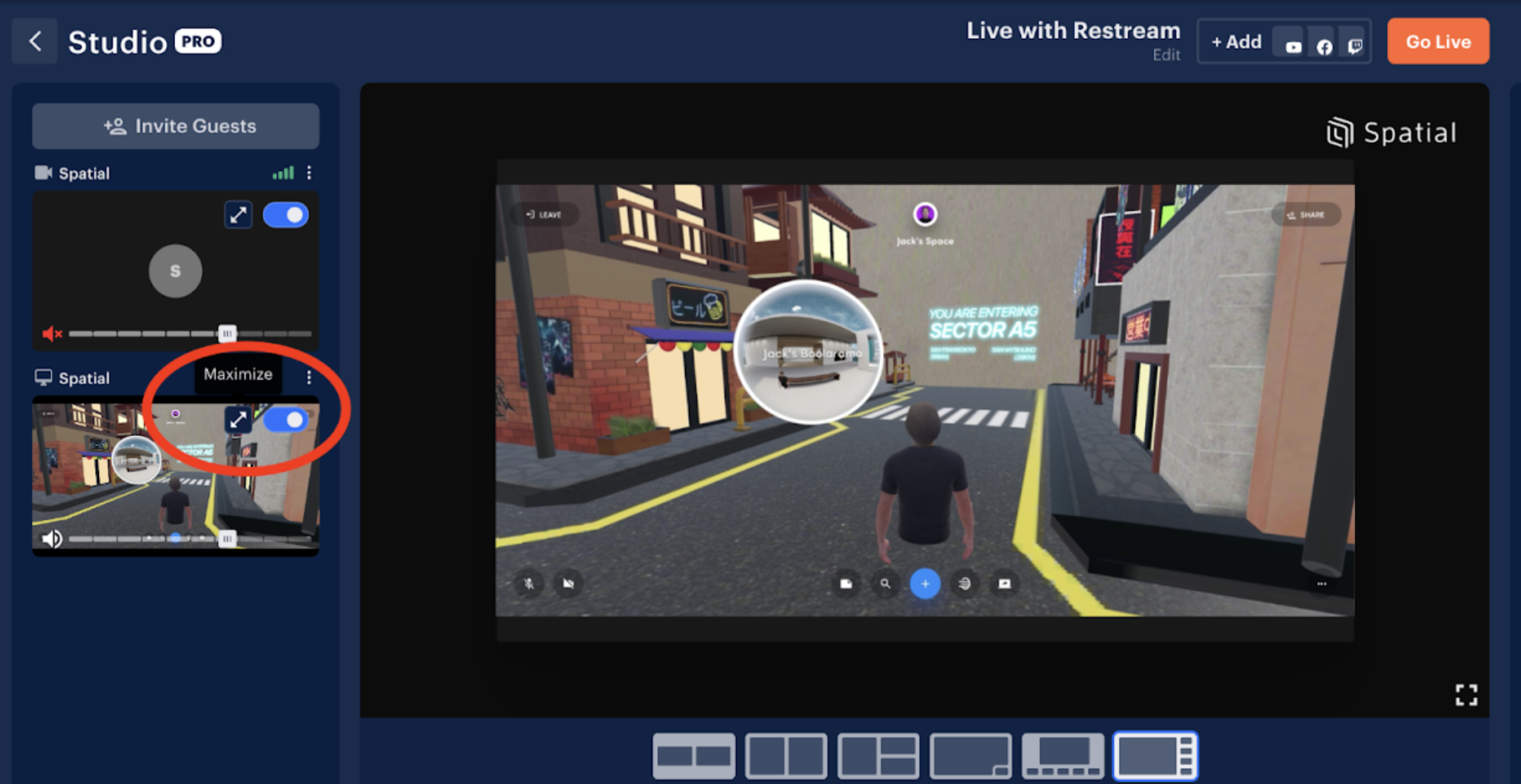 7. Once you have your streaming platforms connected to your Restream account, click "Go Live" at the top of the page to start broadcasting!
Live Stream via Zoom
First things first:
If you're using a Free zoom account, you can stream out to up to 100 Zoom participants, for up to 40 minutes.
Paid Zoom plans offer increased meeting participant limits and do not limit meetings to 40 minutes.
Use Google Chrome for the next steps. This is required for browser audio to be properly configured.
Enter your Spatial space on the web. Mute your avatar and turn off your webcam feed while you configure the streaming. In a separate tab, click your Zoom link to launch the meeting.
You'll need to join Zoom via the web browser, not the Zoom desktop app. Skip ahead to step 3 if you do not have the Zoom desktop app installed. If you already have the app installed:

Your computer will try to start the meeting via the desktop app. Click Leave meeting, and then click Launch Meeting from the Zoom tab in your browser again, as shown below.
Zoom will try to launch via the desktop app again. Once again, click Leave Meeting.
After two join-and-leave attempts, Zoom will offer the option to join the meeting from your browser. You'll see the link below to Join from Your Browser. Click this link.

Be sure to Mute Yourself in Zoom before sharing your screen, otherwise there may be audio feedback from Spatial. Click the green Share Screen button on Zoom.
You'll see the above window pop up. Choose to share your Chrome Tab, then make sure Share Tab Audio is selected in the bottom left. Select the tab running Spatial.
Start sharing Spatial with your Zoom participants. Spectators in Zoom will be able to see and hear the event from the screen sharer's Spatial perspective.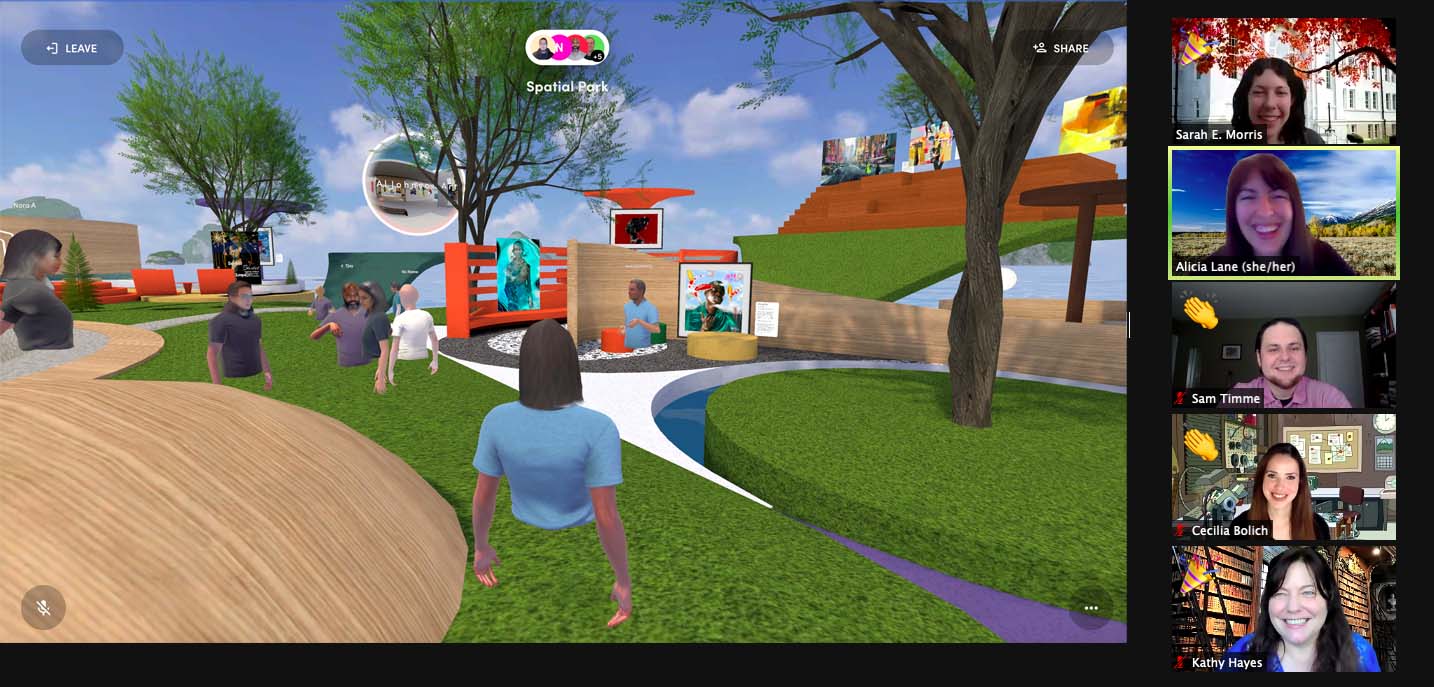 That's it! Live streaming via Zoom is a great way to bring your metaverse experience to spectators and additional participants. Give it a try for your next big event.