The Spatial web app lets you join a meeting from a browser if you don't have a headset! You can share your webcam and microphone with other participants.
When you join a room, Spatial will prompt you for access to your camera and microphone. Make sure to accept!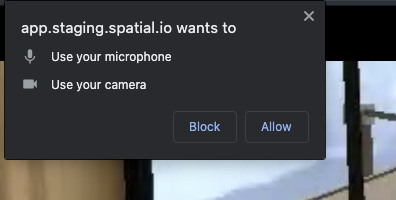 If you accidentally clicked "Block", don't worry! Here's how you can give Spatial permission to access your camera and microphone:
Chrome:
Firefox: Same as Chrome, by clicking the icon shown in the image below
Safari:
For the changes to fully take effect, you may need to reload the page.
Learn more about the Spatial web app here.