Which Platforms can I Customize My Avatar?
| | | | |
| --- | --- | --- | --- |
| | Spatial Web App | Spatial Mobile App | Spatial HMD (VR) |
| Avatar is Visible | YES | YES | YES |
| Can Connect to RPM Customization Menu | YES | YES | NO |
| Can Customize Avatar | YES | YES | NO |
To view a full list of platform-specific capabilities in Spatial, see this guide.
Creating Your Avatar
In another tab, create or log into your account at ReadyPlayer.Me. You can design as many avatars on RPM as you'd like.


Access your RPM avatar in Spatial by clicking Customize Body. From here, choose an existing avatar, edit an existing avatar, or create a new avatar.

If you want to use an avatar you have already made, click Select.
You can create a new RPM avatar directly in Spatial by clicking Create New Avatar.
You can also customize an RPM avatar you've already created by clicking Customize.



Click Save once you are satisfied with your avatar.
Note: If you'd like to use your photo-generated head, please select a Default avatar style, then click Generate Head.
2. Upload a Selfie
There's nothing more you... than you! You can choose to upload a forward facing, neutral-expression selfie to generate your avatar.
For best results, use a neutral expression and look right at the camera. You can use your webcam or upload a selfie from your files. Make sure to enable webcam access if necessary.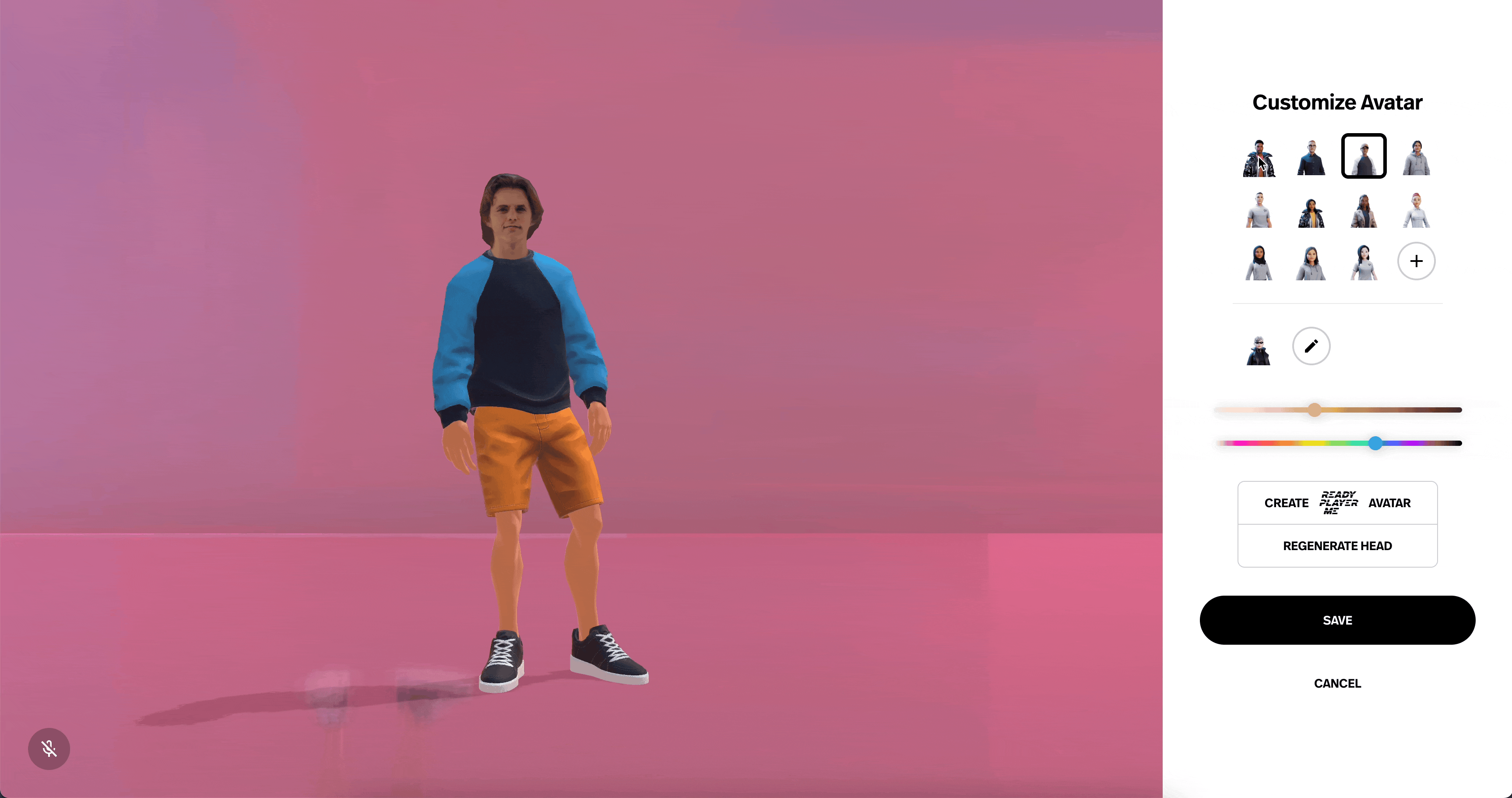 From here, you can:

Customize your outfit

Change your skin tone and shirt color by using the sliding scales
You can click "Regenerate Head" if you'd like to use a different photo. Click "Save" once you're satisfied with your look. You can always edit your avatar later on. Read on below to learn about editing your avatar.
Edit your Avatar
Via Profile (Web)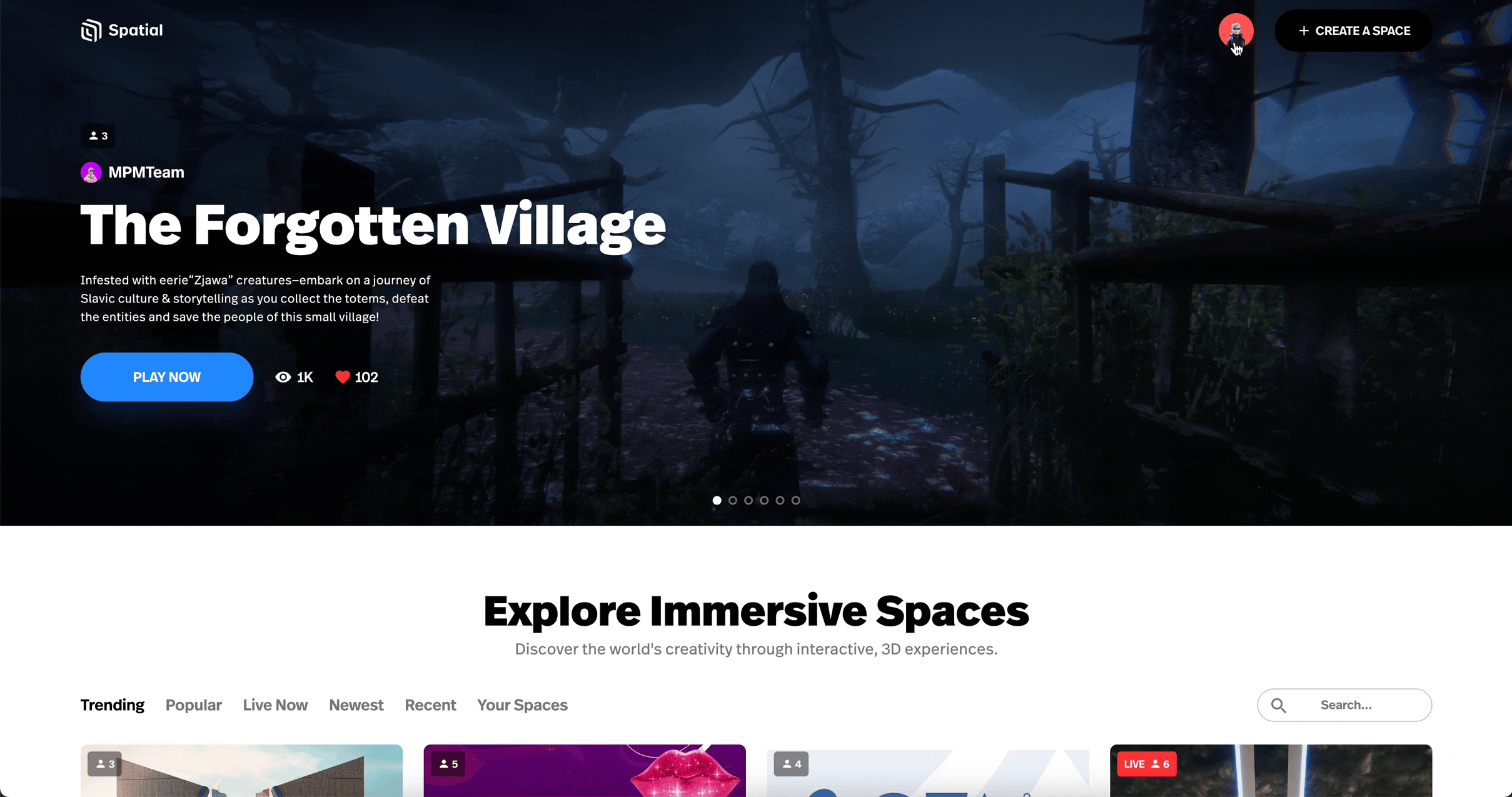 Log into your Spatial account on a web browser at spatial.io/login.


Click your profile in the top right corner and select 'Profile'.


Then click your profile picture to be teleported into your Spatial Home and the avatar customization panel will appear.
Via a Space (Web)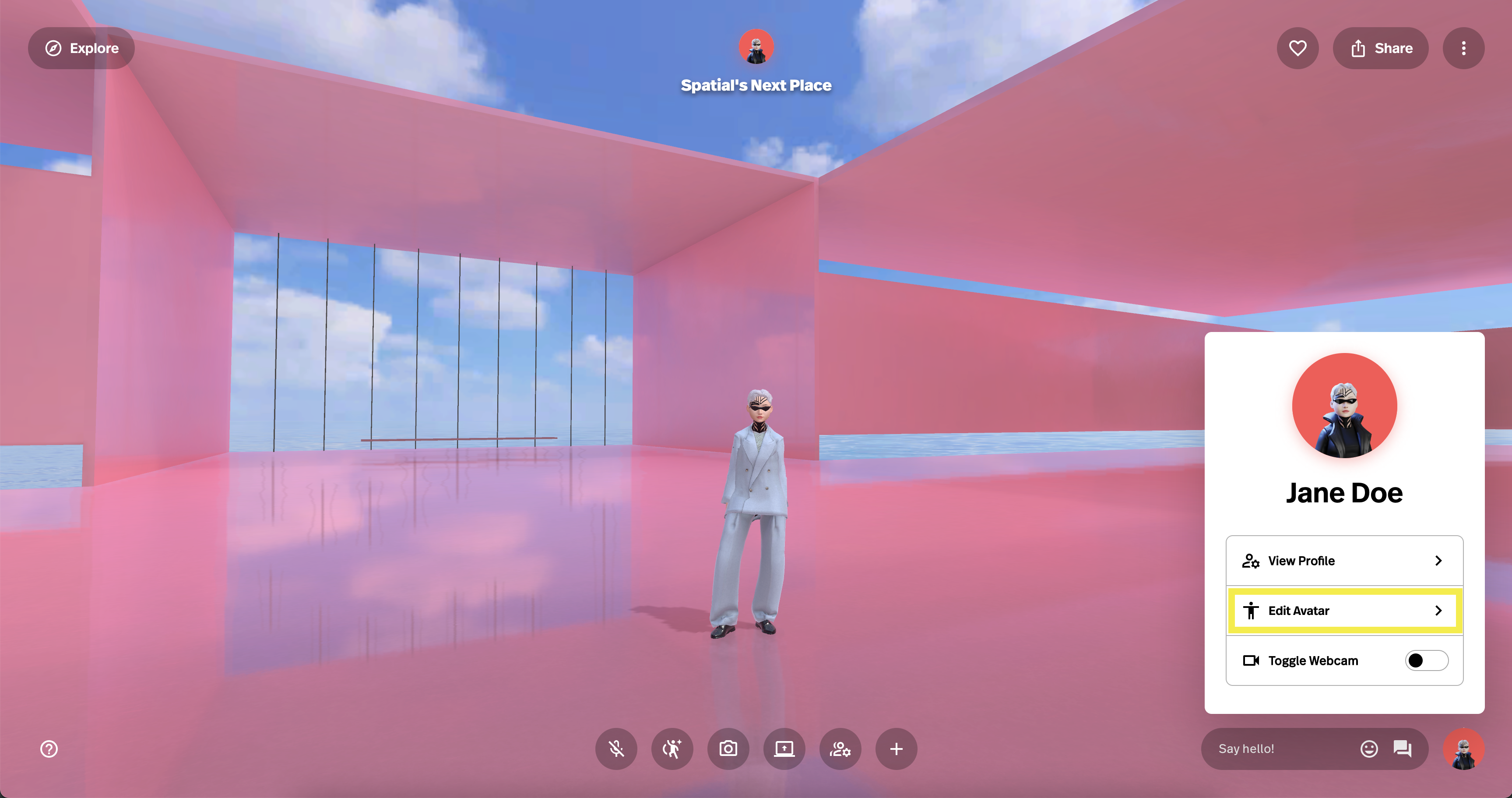 From inside of a Space, click the Avatar button in the bottom right (shown above).


The avatar customization panel will appear. Scroll up to Creating Your Avatar in this guide to learn how to generate an avatar by using a selfie, a default avatar, or your ReadyPlayerMe avatar.

Via a Space (Mobile)
Log into Spatial on the mobile app.


Enter a space.
Click on the person icon on the bottom of the space.



If you are selecting any of preset avatars, click on the desired outfit and click 'Continue'.



If you would like to customize your RPM avatar, choose your RPM avatar and click 'More Options'

Then customize your avatar.


Click 'Next'


Your avatar is ready.
Express Yourself (Web)
Jump using the space bar

Run using the shift key
Clap

your hands by using the C key

Rotate your view using the V key to see your avatar's beautiful face!
Agree with a thumbs up using the Y key
Disagree with a thumbs down using the N key
Thumbs Up

using the 1 key (default)

Wave using the 2 key (default)
Get down using the 3 key (default)
Pop'n lock using the 4 key (default)
Churn butter using the 5 key (default)
Have questions about your avatar? Ask us in our Discord on the #support channel or reach us at support@spatial.io.