Spatial's economy runs on Coins - a virtual currency that can be used by Spatians to purchase content from creators inside of their Worlds. They are purchased with a credit card, and allow creators to earn real world currency when cashed out. Click here to learn more about Creator Monetization.
What can I buy in Spatial with Coins?
Coins can be used to buy items within a creators' World. These items can be anything from special power-ups to cosmetics and enhanced capabilities. Here are some examples of some items you can purchase with Coins:
Avatar fashion items, auras & accessories

Emotes & dance moves

Keys or tickets to access special areas of a Space

Limited time power-ups

So much more
How do I get Coins?
To add Coins to your account, go to Spatial.io/Coins to purchase Spatial Coins with a credit card. They can be purchased in packages in the following denominations:
100 Coins

500 Coins

1050 Coins

2200 Coins

6250 Coins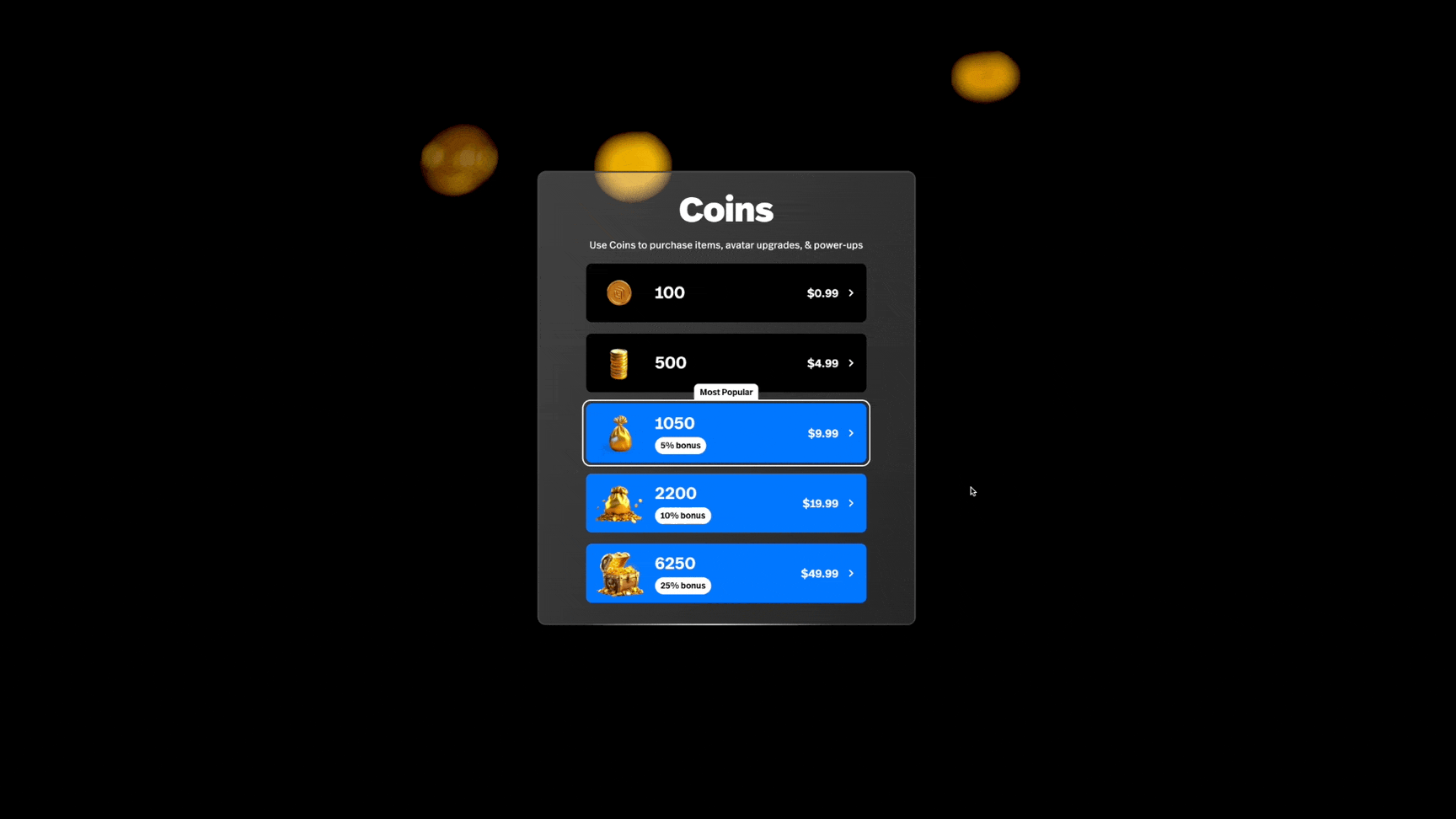 How do I equip things I buy in Spatial?
You can equip items you buy via your backpack. You can access your backpack by pressing ( i ) on your keyboard or by clicking on the backpack icon in your dock.
Can I trade or resell things I buy in Spatial?
Not yet, but this may be possible in the future.
Can I send Coins directly to another user?
Not yet, maybe in the future.
Are Coins a cryptocurrency, or related to NFTs in any way?
No, Coins is not a cryptocurrency or related to NFTs, and does not exist on any blockchain. It is a digital currency for buying and selling digital items on Spatial.
How can I sell things for Coins on Spatial?
Interested in incorporating Coins into your experience to sell items? Check out our Creator Toolkit documentation here: Selling Items
Availability
Spatial Coins can be purchased with currency from any of these countries.
Need Help?
Please feel free to reach out to support@spatial.io with any questions or feedback.